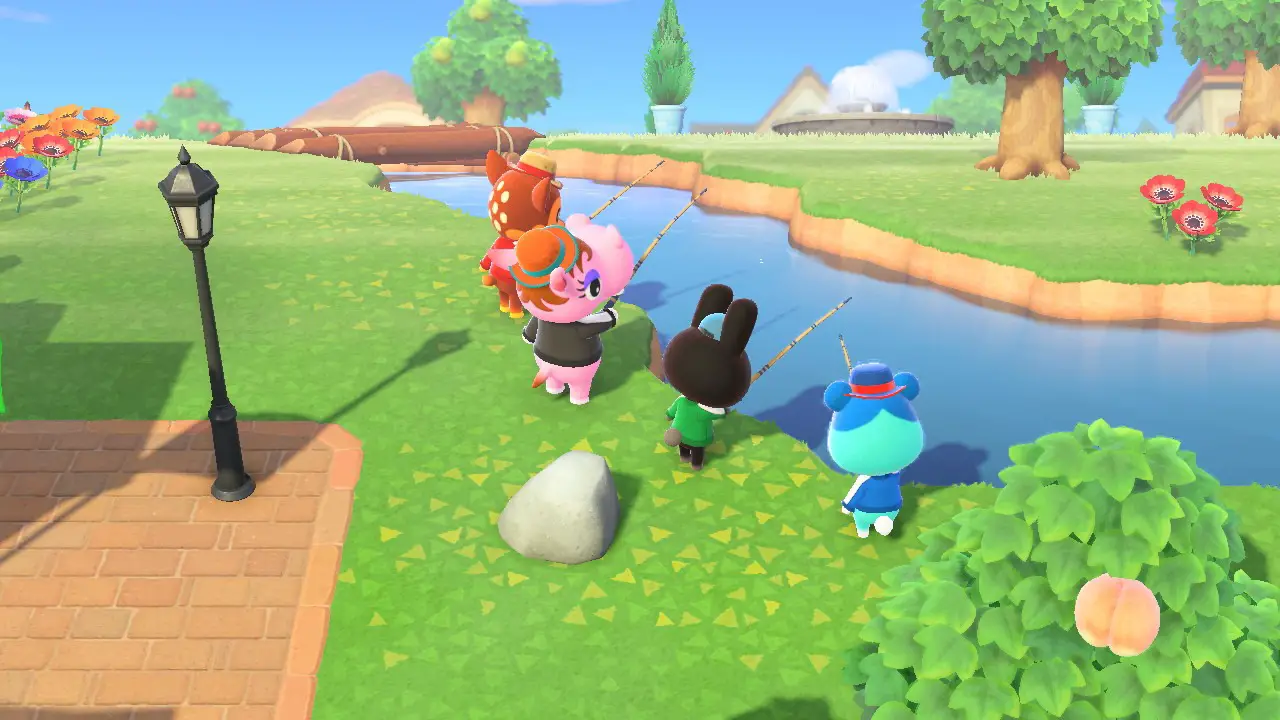 The much-anticipated Fishing Tourney on Animal Crossing has come and gone. Prizes have been collected, pockets full of fish have been sold, and trophies have been awarded. Our local influencer, CJ, appeared in front of Resident Services and kicked off the event at 9 am. Armed with a cooler, stopwatch, cell phone, and an excessive thirst for social media approval, he gave us nine full hours of frenzied fishing in three-minute increments.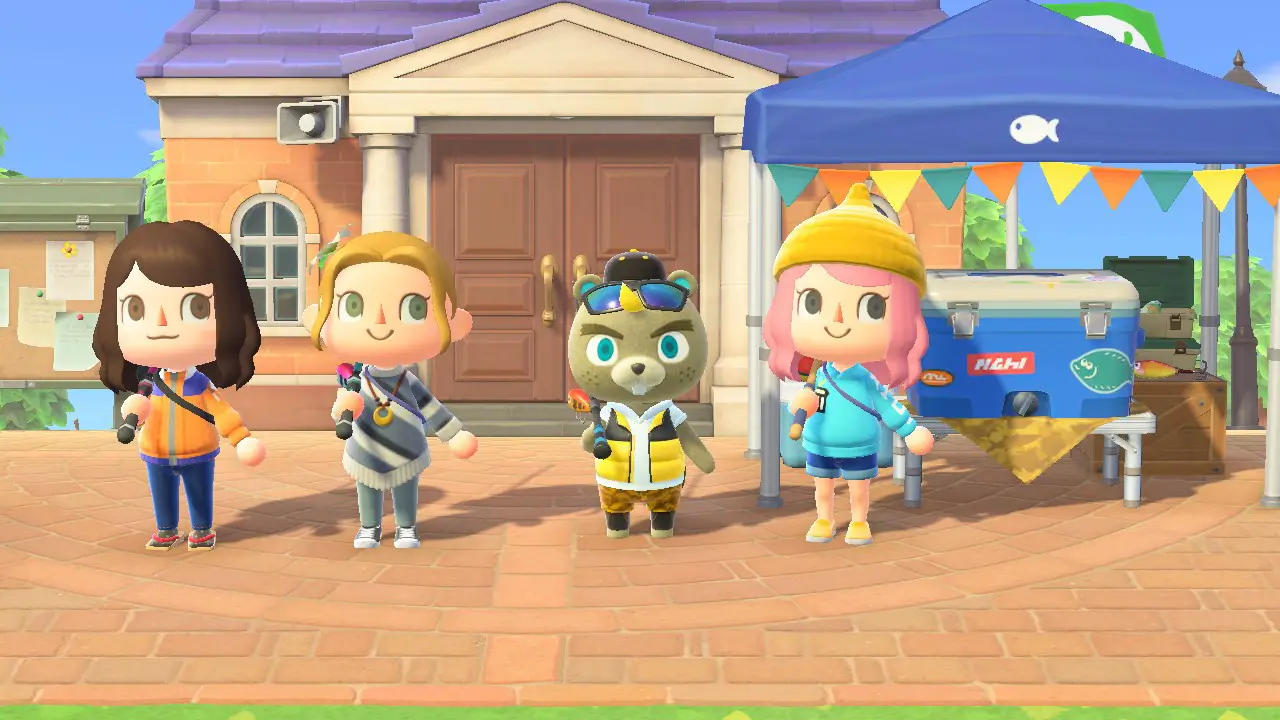 What can we learn from the New Horizons' inaugural fishing tourney? Preparation and friends are the quickest way to gold! Fish bait is a sure-fire way to catch the most fish in the three-minute time limit. Building reserves of bait a day or two before the event will eliminate the need to search for clams in between rounds of fishing. Manila clams are found on the beaches where water shoots up from the sand. Using a shovel, they can be dug up, crafted into fish bait, and stored in bags of ten.  The day before the tourney, randomly placing bags along the beaches or rivers will provide easy access, especially when friends are visiting and need some bait. It doesn't hurt to craft a bunch of fishing poles in advance either. If, however, you are seeking a leisurely day of fishing, take your time and catch at least three fish per round to claim a prize. It will take longer, but hey, the tortoise also crosses the finish line!
The tourney can be completed independently or with the help of visiting friends, which will double the points for each round. If friends are visiting to go fishing with you, they will each need to talk to CJ and sell their fish, which he stores in the cooler before the next round can start. It's worth noting that when playing solo, there is a 500 bell fee before each round. However, when friends are fishing, there is no fee collected.
CJ will also buy any fish you bring him at 1.5 times their value during the fishing tourney, in addition to buying the fish from the cooler for the same markup. Its a great chance to make some bells to pay off that mortgage!
After each three-minute round, CJ counts the fish and awards points that can be swapped for fish swag including:
Marine Pop Wall
Fish Print
Fish Rug
Fish Doorplate
Fresh Cooler
Fish Drying Rack
Fishing-Rod Stand
Fish Print Tee
Tackle Bag
Fish Wand
Anchor Statue
Fish Umbrella
Fish Pochette
Bronze Trophy
Silver Trophy
Gold Trophy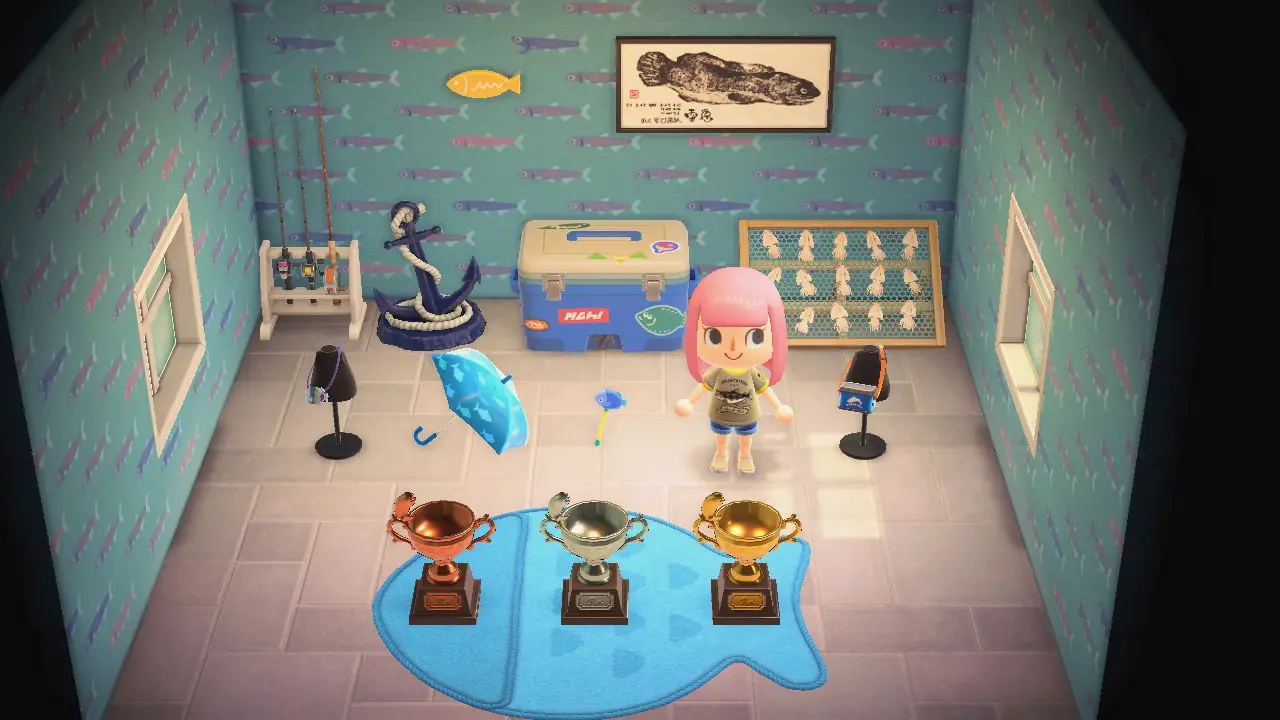 On our island, we fished for a few hours to reach 300 points for the gold trophy. (There may have been some butterfly catching between rounds too.) Two friends visited and joined in the fun. Since time was short, one visitor talked to CJ to start the timer while the other two stood ready on the beach. To make sure the fish started biting when the timer started, we had our pockets open and ready to click on the bait. We could then throw it and cast the line with just a few clicks. After each fish, we would repeat the process. The most fish my visitors or I caught per round was ten each. Using the bait ensured that we would be catching fish and not the plentiful Bunny Day eggs! It also made it very easy to remain in the same spot and keep reeling them in without having to shift positions. None of our fishing poles broke while the timer was running, but a few did break after the three minutes were up.
Overall, the Fishing Tourney was a success and it didn't require a full day of fishing to get all the prizes. Plus, the residents looked adorable in their little jackets and hats! Now we can eagerly await the next tourney in July…. hopefully without eggs!